Monoplacophora
By Mary Monoplacophora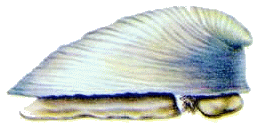 Hello, my name is Mary and I m here to tell you about my Class, the Monoplacophora.
Prior to the year 1952, scientists thought I was extinct (no longer living). Then while on the Danish "Galathea" expedition, scientists discovered ten living specimens of Neopilina (the fancy Latin name of one of my relatives). A few years later a second living specimen of Neopilina was discovered. Today, there are about a dozen known living representatives in my class. The rest of the monoplacophora members are only known by their fossil records.
The reason that I am so rarely found is that I live in very deep water, well below 200 to 600 meter (1/3 mile) depth level and that there appear to be only a very few of us living today.
My shell is only about 1.0 to 3.5 centimeters long and is shaped like a cap. It is often very thin and fragile. I crawl around the ocean bottom by means of a large, round, flat foot. Inside my body, my organs are in pairs almost like those of the earthworm; however, I am not segmented like he is. I have several paired gills (one per section) through which I breathe and one heart and kidney per body section.
The females of my Class release their eggs directly into the surrounding water in great clouds. The males also release their sperm into the same water. If these eggs and sperm meet by chance, new baby monoplacophora are born.